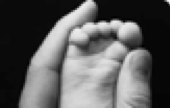 Baby massage
Touch is the newborn's first language, vital to emotional & physical development; massage is a very effective way of reinforcing this & the benefits, for baby & parent, are numerous.

In these classes you will learn how to combine massage with simple movement/soft gymnastic techniques to promote the development of your baby's flexibility and strength, to encourage good posture and health which will benefit them for life.

Suitable for babies from 8 weeks to approx 6 months (rolling over).

If you have a group of friends who would like to set up a one-off introductory session, please let me know - this is a very popular option, a lovely way to get you started with massaging your baby.
Indian head massage 1-day workshop
Head massage has been practised in India for thousands of years & has its roots in the traditional Ayurvedic system of medicine. Indian Head Massage is a specific therapy for the face, head, neck, shoulders & upper back. The treatment takes place seated & can be given with or without oils & through clothing if preferred. It has many benefits, including:

• Relief of muscular tension
• Stimulation of blood circulation
• Mobilisation of the tissues of the neck & shoulders
• Release of anxiety
• Promotion of hair growth
• Toning of facial tissues, enhancing the complexion
• Help with eye strain, sinus congestion & tension of the jaw

The treatment itself is very invigorating, while also being deeply soothing. The result is a profound sense of calm & peace.

In this intensive workshop you will gain an understanding of what is meant by therapeutic touch & learn to give an effective & extremely relaxing 20 minute head massage to friends & family.

Please contact me if you would like to join a waiting list for this workshop.